Western Norway road trip by campervan
Many of you come to rent a campervan for only a limited time period. Though even in a few days, you can see beautiful places and reach Western Norway with a campervan. To make it easier for you, we ourselves embarked on a four-day road trip to provide you with a detailed itinerary. We made the trip in four days, however, I'll provide share more places to see with the possibility to prolong your trip.
As our campervans are located in Sandefjord, the trip started from there. You can also choose to rent a campervan from Oslo, we will deliver it to you.
Our first stop was Dagali, where we visited our friends. Dagali is known for various adrenaline activities, such as rafting, canyoning or even go-kart and paintball. You can spend a day here if you like these kinds of activities. 
Tip: We bought the best bread in Norway in Geilo, in Á Tartiner Bakery.
Did you know we have itineraries to travel Norway ready for purchase? You no longer need to search for information. Read more what will you find in the itinerary!
We entered the Vestlandet with a breathtaking view of the Auralandsfjord, a shoulder of the biggest fjord in Norway – Sognefjord. The little village of Auralandsvangen was bathing in warm spring sun rays. It was great to sit down on a bench and enjoy the calmness of the place. We could hear a strong waterfall on the other side of the fjord.
If you want to have a closer look at it, rent our paddleboards and have views like no one else. There is also a boat stop in a harbour that offers ferry rides to Nærøyfjorden. Use the opportunity to see the narrow, wild and most beautiful arm of Sognefjord that is also part of the UNESCO World Heritage list.
To experience a bird view over the fjord, ride up to Stegastein viewpoint. The road is very narrow and has seven hairpin turns. From there, you can go back down and ride through the longest road tunnel in the world – the Lærdal tunnel (24,5 km).
The second option is to continue from the viewpoint via Auralandsfjellet National Tourist Route towards Lærdalsøyri. Auralandsfjellet is, however, closed for the winter, usually from mid-October to the beginning of June. We didn't have the two options because it was covered with snow and served for ski touring in March. 
Flåm is a little town lying at the end of the Auralandsfjord and can't be missed on a Western Norway road trip. It is known thanks to the Flåm railway, which is the most spectacular train ride in Norway and according to Lonely Planet, even in the whole world!
You can rent a bike and ride through the Flåm valley, side by side with the train. My advice is to ride the train from Flåm to Myrdal and ride back on the bike.
On the way back from Flåm towards Auralandsvangen, stop by Otternes Bygdetun, old farmhouses, overlooking the fjord from above. It lies right by the main road.
Lærdalsøyri was our second spot for the night, after Dagali. With help of the park4night app, we found our place instantly. We slept by the road that comes from Aurandsfjellet. Because it was closed, there was no traffic noise. Thanks to the right to roam, one can spend a night wherever he likes.
The little town has endless hiking opportunities that we, unfortunately, didn't use during our trip. We took a morning walk through the sleeping town and took some nice pictures of wooden houses in the centre. From Lærdalsøyri, drive through a tunnel to embark on a ferry that leads to another tunnel.
After a short ride, you will see a village called Kaupanger. We found it a perfect place to enjoy our breakfast. There is a nice wooden church or Sognefjord museum to be seen.
Continue the spectacular ride further towards Bøyabreen glacier. Stop at a rest point to have a last look at part of the Sognefjord, an arm called Fjærlandsfjord. Jump back into the camper for a few minutes. Will your next stop be a glacier museum? It's definitely interesting to see parts of a glacier and learn how it grows and decreases. 
Bøyabreen glacier lies only 10 minutes ride from the museum and is part of the biggest glacier in continental Europe, Jostedalsbreen. Bøyabreen is easily visible from the road. There is a restaurant open in the summer from which you can observe the glacier. A lake and old chalets that will suit a great photo composition. The views along the road are so spectacular, that it's hard to stay focused on driving. 
One and half hours away, we visit Innvikfjorden. It is maybe not so popular, but villages Loen and Stryn will for sure sound familiar to you. I found this fjord a bit boring after what we have seen in Sognefjorden. The mountains are not so high anymore. When we reached Loen, it was raining and the mountain with the skylift was covered in fog. Maybe this affected my opinion of the place. 
Tip: If you liked the glacier before, you might want to take a trip to the Briksdalsbreen glacier.
Lovatnet was our spot for the night. As we expected, there were "no camping" signs everywhere and one can park the campervan (almost) only at the campsites. At this place, it's absolutely worth it, because you can park right on the beach. Jump to the lake right from the campervan's bed in the morning. And the views! We recommend Helset camping.
I wrote almost  because at the end of the lake we managed to find one place without the sign. It was a resting area with a picnic table and we shared the spot with another campervan that night.
Besides crystal clear water in the lake, idyllic boat and half-floated pier, one can also visit Breng Seter, other old farmhouses, great for the pictures.
Stretch your legs after days of driving and hike to Mount Skåla, which is part of the Jostedalsbreen National Park. If you are not a hiking fan but want to have a view from above, take the skylift to Mount Hoven.
Tip: Loen is the place where you will find the popular Via Ferrata and Skylift
Stryn village is only a 20 minutes ride from Lovatnet lake. If you haven't heard about this place before, it's the village with a meandering river that looks amazing on drone pictures. Another must-see place on a Western Norway road trip. We took a walk from church to Skuten, which is a short walk through a forest, to get a nice view of the river. 
If you wish to take a natural shower, right after Hjelle village a Glomnefossen waterfall can be found. Maybe you want to hike for a view to Segestad (314 moh) first and take a shower after?
Tip: In the summer (mid-June to mid-September), you can drive through the Gamle Strynefjellet road that belongs to the National Scenic Routes. There is also a summer ski resort.
Now it's time to decide if you want to visit the most popular Geirangerfjord. Our choice was made by nature since the road was closed for winter. If you pay a visit to Geiranger, consider prolonging the trip to more days. It would be a shame to leave it immediately after coming, right?
Here you can drive up to the Ørnesvingen viewpoint or find yourself an interesting hiking path. I would definitely choose to hike to an old farm called Skageflå, from where one can see the waterfall Seven Sisters. Remember, you must take a boat (or paddleboard or kayak) to get to the starting point.
Tip: Visit Geiranger Sjokolade Fjordnær for the local chocolate experience.
Get back on road number 15 and continue towards Lom, which is home to Lom stave church, built in the 12th century. You can find many stave churches in Norway, but this one is really beautiful and nicely preserved.
If you take the first exit on the roundabout, you will find yourself on the way towards the highest mountain in Norway, Galdhøpiggen and in a direction to the Sognefjorden. This time, there is no time for it, but you can read more about the hike to Galdhøpiggen for your next visit.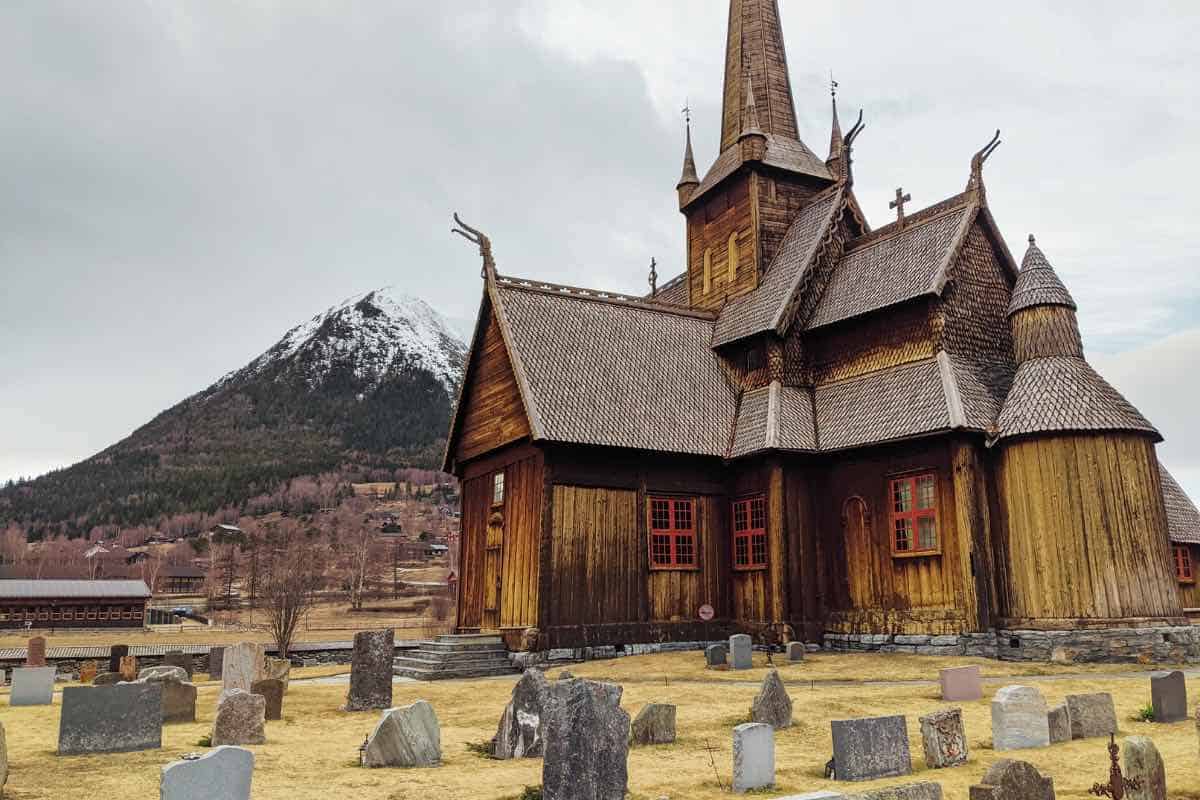 The journey on road 15 continues until village Randen, where we turn toward Valdresflye. The road also belongs to the National Tourist Roads list and we haven't doubted it once. It is spectacular from the start to the end. The experience was even stronger in March, however, it had just opened.
The road was closed the whole winter and opened at the end of March when the snow was cleared from the road. Because of it, there were 2 meters high snow walls along the road. When we "climbed" it, we found an endless snow playground. People were on cross country skis, on skimo, snowkiting, sunbathing… You only must choose which activity you want to do.
We split up, while one went on a small hike, the other one chose cross country skiing. Here we found a spot for night by Bessheim Fjellstue. One can choose from a hotel, camping ground and simple parking lot suitable for a campervan. Because we didn't need any extra service that night, we parked on the lot for about 60kr, where toilets were available for us.
This ridge is a must-see for everyone! Because we hiked it before and there was still snow on it, we just took a short break by lake Gjende in Gjendesheim, where the hike starts. The lake was still covered by ice and snow, so people were skiing on it. 
To hike Besseggen, you will most likely want to take a ferry at some point. I wrote more about what is the best way to hike Besseggen on our blog.
If you wish to spend more time in Jotunheimen, in the home of giants, there is a lot to see and hike. Even though Jotunheimen National Park offers many peaks that rise above 2000 moh, everyone can find the suitable one for him or her. Here are four hikes in Jotunheimen described in full detail. 
Jotunheimen National Park was our last stop, however, you can find other interesting places further along the road. One of them might be a Twist Gallery close to Hønefoss. It all depends on the time you have. One can spend much more time at all places mentioned.
I hope this itinerary helped you to plan your short, but intensive Western Norway road trip with a campervan!
Request your Norway itinerary
Read more about what you can get in the itinerary